Check back here often for updates, features, specials, etc.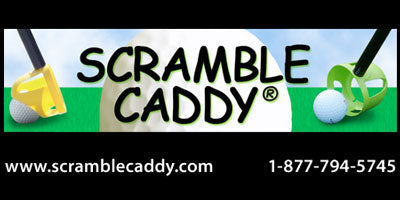 The Scramble Caddy ball retriever is the perfect golf event accessory, specifically designed for golf scramble tournaments and outings and is always a big hit as a tee prize all charity events and fundraisers as well as your local golf league.
Scramble Caddy can also be used to extract your ball from the cup…and it's the only ball retriever that picks up a golf ball in two different ways; either when stopped or while driving down the fairway.
As an Added BONUS: It's the only scramble golf ball retriever that can rescue balls from water hazards.
You simply can't do that with a suction cup!
Tips for using a Scramble Caddy:
When scooping, it's better if you keep the Scramble Caddy a little behind you. Think "polo style"; when the ball and Scramble Caddy grip are behind your shoulder, then scoop up the ball with a forward motion.
You can also pop it through the bottom holding the shaft at about a 45 degree angle. Press down on the ball while pulling towards you. The ball will pop right into the cup.
Purchase one today…..the golf gift that benefits seniors as well as golfers who have trouble bending down to pick up the ball. Simply scoop up your ball while on the move and speed up the pace of play for everyone. They are really a lot of fun to use on the course.
Scramble Caddy is a unique patented design - U.S. Patent No. 7,938,465